Cyber ​​Fraud: On 26 March 2022, suddenly an SMS came on my phone. In which it was written that SBI user, today your bank account will be blocked. Update your PAN card and KYC. Click on this (URL) to upload your account login NetBanking KYC http://sbi3.herokuapp.com. Delhi's Mayank Singh (name changed) told this. After seeing this message, Mayank called on the phone number from which the message had come, the bell was going but no one picked up the phone. When Mayank read the URL carefully, he realized that there is something black in the pulse. Because he had already done KYC. Actually the fraudster was trying to cheat Mayank online. The URL that was sent to Mayank looked fake just by looking at it.
Similar SMS also came to Arvind Kumar (name changed). It was written in the SMS that Dear Customer, your ICICI Bank account KYC has been suspended. Click on this URL https://is.gd/BkDJ7H.ICICI.LOGIN and Update KYC and Activate ICICI Bank Account. It can be clearly seen in this message that this URL of ICICI Bank is fake.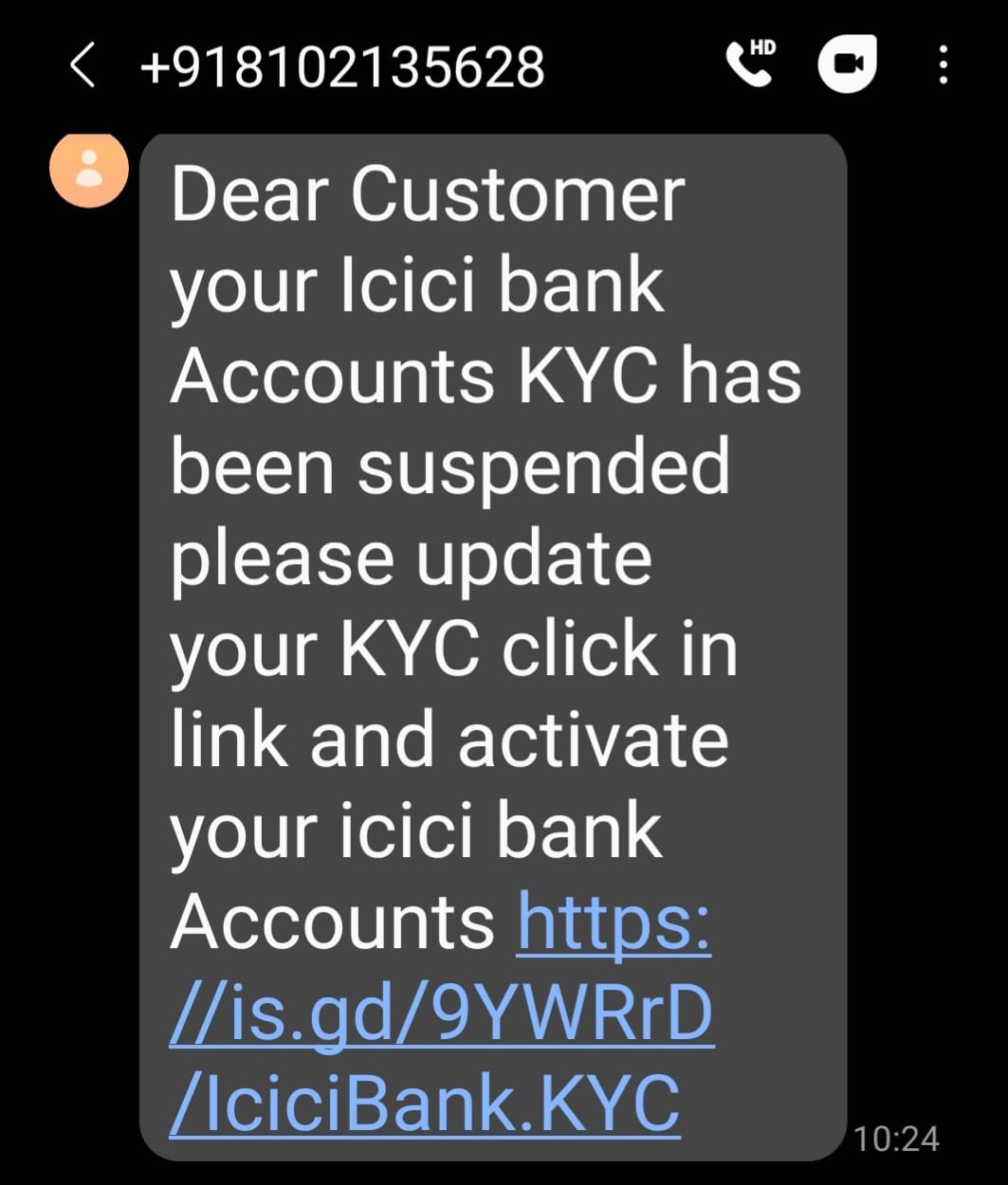 bank fraud with fake sim card
Common people in the country are constantly falling prey to cyber fraud through this type of message. Cyber ​​experts say that these types of cyber frauds are done in a very organized way. Cyber ​​fraudsters change the SIM card immediately after committing the fraud. This week, Vodafone Idea, a telecom service provider on the instructions of the Madhya Pradesh Cyber ​​Police, blocked 8,000 SIM cards which were issued on the basis of wrong identity cards. The SIM card was issued to these cyber thugs in the name of some other person.
Last year, 16000 pre-activated SIM cards were seized in Odisha, even though people were not aware that SIM cards were issued in their names. Getting a SIM card and opening a bank account in other countries is a challenge. In the name of getting subsidy in the villages, people give their Aadhaar to the gang of cyber thugs. The SIM card is issued in the name of these people by fingerprint and the account is opened and they do not even know. To commit cyber fraud, a thug needs a SIM card and a bank account number. Both of these do not happen without KYC. In the investigation, it is found that both the SIM cards are in someone else's name.
Fraud increased due to fake phone call
According to the Global Tech Support Scam 2021 report, 51 percent of frauds in India have happened through pop-up ads or windows. 42 percent of Indians fell into the trap of hackers through unsolicited emails, 48 ​​percent through redirect websites. 31 percent people are falling prey to fraud through unwanted calls. Comparison with last year's data shows that the biggest increase has been in frauds through unwanted calls.
Most money is lost in money transfer
According to a Microsoft survey, 43 percent of people have lost their money during bank transfers. At the same time, 38 percent people have been victims of fraud at the time of payment by gift cards, 32 payment apps, 32 percent by credit cards. According to cyber experts, to prevent cybercrime, the government should make strict on banks that no bank account will be opened without personal verification, which will stop opening fake accounts. At the same time, if a single SIM card is issued without proper KYC, then penalty should be imposed on the telecom companies.
The government told Parliament that the Indian government is making efforts to focus on ensuring the security of digital payments and creating awareness among citizens about secure digital payment practices. Transactions are secured with two-tier authentication for the safety of online banking and ATM customers. Online-banking frauds mainly arise due to unintentional compromise of credentials by the customer. Various measures have been taken by the government to control such incidents.
MeitY has asked all banks and payment service providers to conduct campaigns to promote secure payment practices to spread awareness. RBI has mandated that all new cards issued by banks – debit and credit, domestic and international ATM cards – be EMV chip and PIN based cards to avoid cloning.
read this also
ABP Ideas of India: Ritesh Agarwal of Oyo said, Corona epidemic brought opportunity, increased travel in cities with temples
ABP Ideas of India: NR Narayana Murthy of Infosys said, digitization can accelerate the economic development of the country
,